I am getting so many emails and questions about this stroller, I thought it might be easier to just do a whole review on it instead. I saw this at the ABC Show last year, and was impressed with it in the same way I am impressed with those $5000 Japanese toilets that can read the newspaper to you while you sit. Very cool, but just kind of…… unrealistic.
The main premise of this stroller is that it is the pinnacle of tech gadgetry. It has headlights, its battery powered, and it folds and unfolds itself. It has a great USB port for recharging your cell phone. Oh, and it has an LED screen that tells you the time, temperature, how far you have traveled, how many steps you have taken, and a very handy picture of the child in case you forget you have one. Its THE perfect stroller for people who forget they have children and need a flashing LED baby to remind them. Fabulous. The presenter at the ABC Show was extremely proud of the feature that the stroller won't fold with a baby in the pram, it will FLASH A RED LIGHT AT YOU to make you remember to take the baby out before you fold it.

I just don't know what to do with that.
Anyway. It does fold itself with the turn and press of a button, and that is powered by a battery that is recharged when the stroller is being used. If for some reason your stroller battery is dead, there is a manual open and close mechanism as well. The fold is quite compact, which is nice for people with smaller cars or who store their prams indoors. If you are looking for compact and lightweight umbrella strollers of 2020, then read this great guide.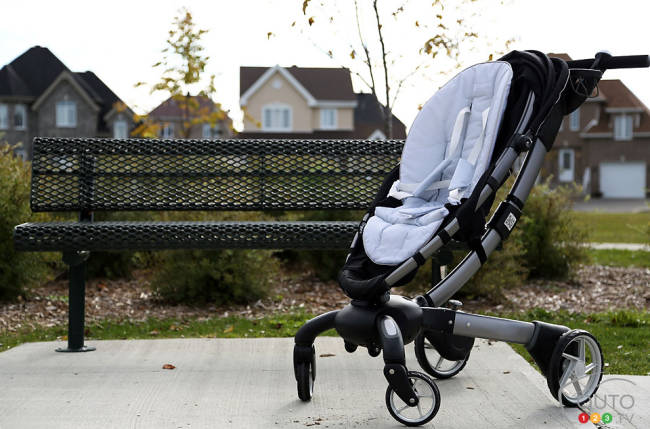 Also, there are little hidden wheels that are only out when the Origami is folded, so you can wheel it along like a suitcase.
Which is good, because the Origami weighs in at 29 lbs, AKA one of the highest weights on the market for a single stroller. Comparatively, a Maclaren Quest weighs 12lbs, the BabyJogger City Mini weighs 17lbs, the Cameleon is 20lbs and the (in my opinion) already a little too heavy UppaBaby Vista is 24lbs.
Because of the shape of the stroller- having a large 'spine' instead of a more traditional rectangular frame, the seat has a very slight recline which means it can't be used until 6 months with the regular stroller seat. If you plan to use it with an itsy bitsy, you will have to buy the bassinet ($150) or the car seat adapter ($60). The car seat adapter is only available in Graco, which is disappointing. Hopefully they will release adapters for Maxi Cosi and Peg Perego as some point. Also, the handlebar doesn't adjust at all, although it is quite high (I am 5'10 and was in 3 inch heels when I tested it and it was fine for me) so that might not be a problem unless  either you or your baby daddy/ mama/ partner/ whoever are very short or very tall.
Another 'side effect' of the spine shaped frame is that the under seat basket is very very small. As you can see, it apparently only fits a sock monkey.
And unless that sock monkey has two bottles, four diapers, a pacifier and my Grande Iced Coffee crammed into its abdominal cavity, its not very big. Don't think you will be able to get around this by hanging a diaper bag on the handles, because you aren't allowed.
The Origami in its base package retails for $850 and comes in 6 different colors. As I said, if you want the accessories to use it from birth, it will be $1060.
OK, so that what I like and don't like, now let me summarize it in a neat little package. I think that super cool and unusual strollers have a definite place. I liken the Origami a little bit to the Xplory: Its interesting, it has features that no one else has, and its going to get some major attention. However, also like the Xplory, its not the most day in and day out practical. I cannot imagine having the Origami as your only stroller til your child is 4. I have enjoyed my Xplory's the most when I also own a normal, practical pram to go with it, and I can wheel the Xplory out for 'special' occasions or when I could be bothered. I am really turned off by the lack of recline, and the non-existent storage or ability to hang a diaper bag. Spending $1000 on a stroller doesn't bother me, but it better do a whole lot for me and my baby. I don't think the Origami can say that.
I worry that the many many gadgets will break and then be useless (4Moms back up the Origami with a 2 year warranty). Will it be OK after you get caught in a rainstorm when you are parked in the last row of the parking lot? I also wonder how often many of the things will really be used. With a tiny recline, small storage and only being forward facing, the reason people are buying this over, say, a Maclaren or a BJCM is because of the high tech stuff. But honestly, how many times have you been walking through the mall and thought "I wonder how many steps it was from Nordstroms to this food court?". Or, needed to know right then that the Dr office was cooled to 72 degrees? I do like the USB phone charger, but the rest just seems superfluous. And $850 is a lot to spend on superfluous.
If you have an extra 1K laying around and don't know what to do with it, or you have a dear old Aunt who wants to buy the baby something special, by all means get one and marvel over the baby on the LED screen. But if you are reading this because you are trying to decide on the one stroller you plan on using until your gorgeous bebe gets on the bus to preschool, make sure you are looking past the shiny bits to the real practicality of the Origami.